When you cannot be there, I can.
Specializing in geriatrics and special medical needs pets. Special diets and medication are no problem and no extra fees.
For Your Pet

Fresh food and water at scheduled visits
Exercise, playtime, TLC
Scoop and change litter boxes
Pick up after pets
Maintain your routine
LOVE on them as if they were my own
Administer medication
Diabetic Injections
Allergy Injections
Subcutaneous intravenous (hydration) for cats
Additional special care
Get medical treatment in case of illness

I will be happy to water your plants, cycle lights and drapes to make your home look "lived" in and I will bring in your mail, packages and newspapers as well. A daily diary is kept for you to read what took place during your absence from home but, most of all you will have peace of mind. You can enjoy your time away knowing your pets are being well cared for. Friends and neighbors won't be inconvenienced and your pet will be there waiting for you when you return – even if it's on a weekend.

I can also help out when there are instances of unusual working hours etc. that may make it difficult to properly care for your pet.
Pet Sitting Services and Rates for Decatur, AL/Morgan County*
A New Client Set Up Fee
No Charge
Pet Sitting Visit [10-20 minutes]
$12.00
Nice Walk [30 Minutes]
$18.00
Each Additional Pet
$1.00
House Check [No Pets]
$10.00
House Key [Pick Up/Drop Off]
$6.00
Pet Taxi Service
$18.00 per 30 min.*
Extended Care
$26 per hour
In-Home Overnight Sitting 8 Hours [limited availability]
$55.00**
Stay-a-While 12 hours [includes 1 mid-day potty break]
$80.00** 50% Deposit Required
Holiday Surcharges


(Valentine's Day, Easter, Mother's Day, Memorial Day, Fourth of July, Labor Day, Thanksgiving (2 days), Christmas Eve, Christmas Day, New Year's Eve and New Year's Day.)

$5 per visit,
$15 per overnight stay
Basic Obedience Training [One-on-one, in-home dog training sessions]
$25 per half hour,
$40 per 45 min.
Mileage
$0.30 per mile round trip
* $18 minimum and prorated per each 15 minutes there after
: : We can take them to the vet, groomer or wherever they need to go : :
: If you have a pet-related task or service that you would like us to help you with, but it is not listed here then please email us as we always try to accommodate our clients with their pet-related needs.
** Additional $10 charge for over 5 pets
Service Area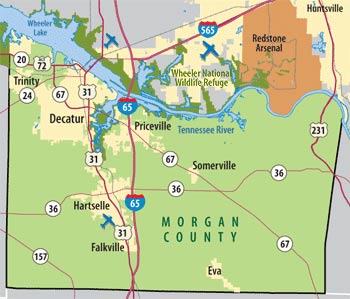 *Serving the following zip codes:35601,35602,35603,35609, 35640, 35650 and 35699
Map copyright of Decatur-Morgan County Chamber of Commerce. Learn more about Morgan County, Alabama at www.decaturmorgancounty.com.
Payment
I accept Checks, Cash and credit card payments via PayPal.
Use the button below to submit secure payment using your credit card or Pay Pal account. You do not need to have a PayPal account.
Rates are subject to change at any time.